Written by JESSICA JONES CAPPARELL
This week, the US Senate introduced new legislation that protects and expands the right to vote, decreases the influence of money in politics, and curbs partisan gerrymandering. The Freedom to Vote Act will set national standards to make sure all Americans can cast their ballots in the way that works best for them, regardless of their age, race, sex, language, or zip code.
Together other civil rights, voting rights, and partner organizations, the League of Women Voters (LWV) strongly endorsed the legislation when it was introduced on September 14. The bill is not perfect, but it has carried over or strengthened many of the reforms that the League supported in the For the People Act, which passed in the US House but was unable to get past a filibuster in the US Senate. This new legislation is cosponsored by Senators Amy Klobuchar (D-MN), Tim Kaine (D-VA), Angus King (I-ME), Joe Manchin (D-WV), Jeff Merkley (D-OR), Alex Padilla (D-CA), Jon Tester (D-MT), and Reverend Raphael Warnock (D-GA). 
PROTECTING AND EXPANDING THE RIGHT TO VOTE
The biggest barrier to voting is ensuring that voters are registered to vote. Many of the reforms included in the Freedom to Vote Act expand opportunities for voters to both register and increase access to voting in the way that works best for them. Reforms in the legislation that the League has long supported include: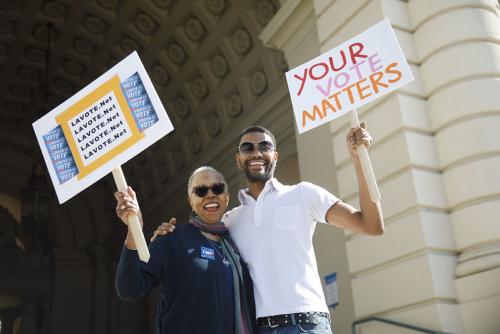 Same Day Registration: Ensures that every voter who shows up on election day can register and vote. If the bill passes, this provision will go into full effect by 2024;
Automatic Voter Registration: Allows voters to be automatically registered to vote when they do any business through all state motor vehicle agencies;
Online Voter Registration: Guarantees that voters can register on the internet and access their registration online to update their address and contact information;
Expanded Early Voting: Requires states to offer 15 consecutive days, including weekends, prior to Election Day where voters can cast ballots in person prior to Election Day; and
Creating criteria for voter roll maintenance: Creates standards for updating voter rolls based on reliable and objective evidence.
Authorize registration at naturalization ceremonies: Establishes a process for authorizing the chief state election official in every state to share voter registration information at the end of any naturalization ceremony.
In addition to the key reforms that the League has been fighting for listed above, the legislation contains other important provisions that will strengthen the freedom to vote. The legislation will expand access for the disabled, Native Americans, and underserved communities who face unique challenges when voting. The bill also ensures voter-verified paper ballots are used, establishes election security standards for voting equipment vendors, and protects state and local election administration officials from undue influence or control.
ELIMINATING THE INFLUENCE OF DARK MONEY
Americans deserve to know who is trying to influence their vote. Whether it's a foreign entity or a big-money contributor, voters deserve to know where the money is coming from. That's why the provisions in the Freedom to Vote Act shine a light on the influence of money in our elections. These provisions include:
The DISCLOSE Act: The Democracy Is Strengthened by Casting Light On Spending in Elections Act of 2021 requires organizations that spend money in federal elections, such as labor organizations, Super PACs, and corporations, to disclose their donors. This will allow the American people to see who is attempting to sway their votes and gain influence in our government;
Small dollar financing of US House elections: Provides funding to states that can be used if candidates elect to receive a 6:1 match on small dollar contributions. Prohibits the use of taxpayer dollars from being used to fund the program.
Reporting foreign interference in our elections: Requires campaigns to disclose certain foreign contacts; and
Stopping illicit Super PAC coordination: Ensures single-candidate super PACs do not operate as arms of campaigns.
The money in politics provisions will stop foreign and domestic interference in our elections and ensure Americans know who is trying to influence their votes.
CURBING PARTISAN AND RACIAL GERRYMANDERING
The Freedom to Vote Act establishes specific criteria for congressional redistricting and makes judicial remedies available for the states by:

Establishing criteria for congressional redistricting: Ensures that maps comply with the Voting Rights Act, consider communities of interest, cannot consider incumbent addresses, and comply with the "one person, one vote" clause in the US Constitution;
Ensuring states have access to judicial remedies: Allows partisan gerrymandering claims to be appealed to the federal district court in the state or to the DC Circuit court. This would make these courts an intermediary and provide a way to make constitutional challenges without going to the US Supreme Court.
Appointing an independent demographer to redraw maps: Empowers the court to appoint an independent demographer to draw maps that fit state criteria and requirements instead of sending challenged maps back to the state legislature; and
Mandating transparency: Requires state redistricting entity to hold hearings in different regions of the state before and after releasing proposed plans so that the public can provide input.
Through the League's initiative to build People Powered Fair Maps™, state and local Leagues have engaged the public on the need for fair redistricting processes. The provisions in this bill will ensure that maps drawn in the 2021-22 cycle are fair and represent the needs of voters, not politicians.
WHAT'S NEEDED FOR THE BILL TO PASS IN THE SENATE
A vote on this legislation is expected during the week of September 20. Due to the current rules of the Senate, it will need to get 60 votes in order to overcome the Senates filibuster rule.
Senator Manchin, who helped put together the framework for this legislation, has been working to get support from colleagues across the aisle. If he is unable to get ten republican legislators to support the bill when it comes to the floor, it will be necessary for the Senate to change the rules in order to pass this and other key voting rights legislation like the John Lewis Voting Rights Advancement Act.
The League will continue to push both chambers of Congress to pass this legislation. We also continue to put pressure on President Biden to use all of his influence and power to ensure that voting rights legislation is delivered to his desk for his signature. We cannot afford to wait any longer or hear any more excuses; the American people demand equal voting rights now. 
Source: https://www.lwv.org/blog/senate-introduces-freedom-vote-act